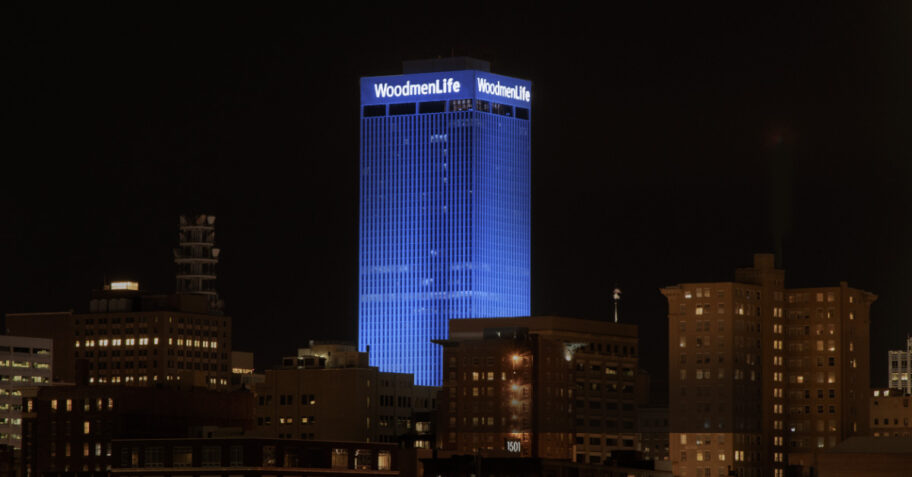 WoodmenLife Sign Project Wraps With Big Reveal & Moonlight Thank Yous
The months-long initiative to change the "Woodmen" sign at the top of the tower to "WoodmenLife" wrapped up Wednesday night with a virtual party on Facebook.
Viewers tuned in from across America to see the letters revealed, and also got to learn about the tower's history and some big names in Omaha's business world, like Leo A Daly architecture and the Caniglia family, known widely for the restaurants they've run.
Moments later engineers also flipped the switch for the LEDs that light the tower itself, shining a light on hundreds of causes each year that benefit our community and country, support patriotism and bolster better health. To learn more about these lightings, visit our Tower Lighting Partnership website.
Thank you to all the vendors who made this project such a beautiful success:
Omaha Neon Sign Company (design, fabrication, and installation of sign; removal of previous sign)
Project Advocates (project consultants and management)
Downs Electric, Inc. (electrical wiring)
American Cleaning Service (facade cleaning, letter removing, swing stage operation, and consulting)
Mid-Continental Restoration (exterior building repairs post-removal of old sign)
Patriot Cranes (facilitated removal of old letters and installation of new)
Goedecke (provided swing stage)
Skyclimber (manufacturer of swing stage equipment)
Wheeler Contracting (asbestos abatement)
AOI Furniture (furniture moves)
Baird Holm Law Firm (facilitated project approval from City of Omaha)
Lamson Dugan and Murray Law Firm (legal consulting)
Also thanks and appreciation go to the City of Omaha for its support in this effort.