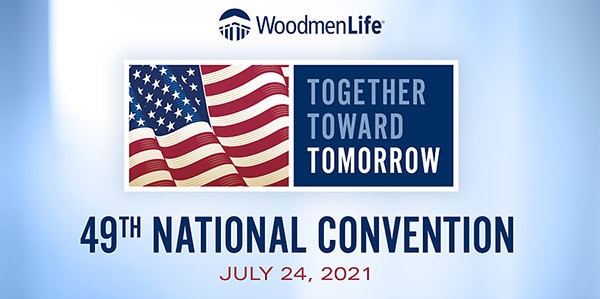 WoodmenLife Celebrates 49th National Convention with Donation
Delegates from around the country came together electronically Saturday, July 24 to conduct the business of WoodmenLife at the organization's 49th National Convention.
Normally held in-person at various destinations around the U.S., this meeting brings delegates together to learn about WoodmenLife's financial progress and community outreach efforts. They also conduct business as required by the organization's bylaws.
At every convention, WoodmenLife makes a monetary donation to a host city organization to say thank you. This year, a $15,000 donation was given to the First Responder's Foundation to help the organization provide for the mental well-being of First Responders in rural areas.
"Our members have a shared commitment to bettering our communities. Aiding First Responders is a great way we show our appreciation to them and fulfill our mission," said President & CEO Patrick L. Dees.
In between national conventions, chapters and members across the U.S. are passionate about finding ways to support their local communities, whether by donating to First Responder organizations, helping the food insecure or cleaning and beautifying public spaces. To learn more about these activities and how to get involved, visit WoodmenLife.org.
About WoodmenLife
WoodmenLife was founded in 1890 as a not-for-profit. The organization gives back to its members across the country, who join together in a shared commitment to family, community and country. With a legacy of financial stability, WoodmenLife offers quality life insurance and retirement products. A person becomes a member when they purchase a WoodmenLife product. Members have access to many extras they can use now. To learn more about the organization, visit newsroom.WoodmenLife.org.