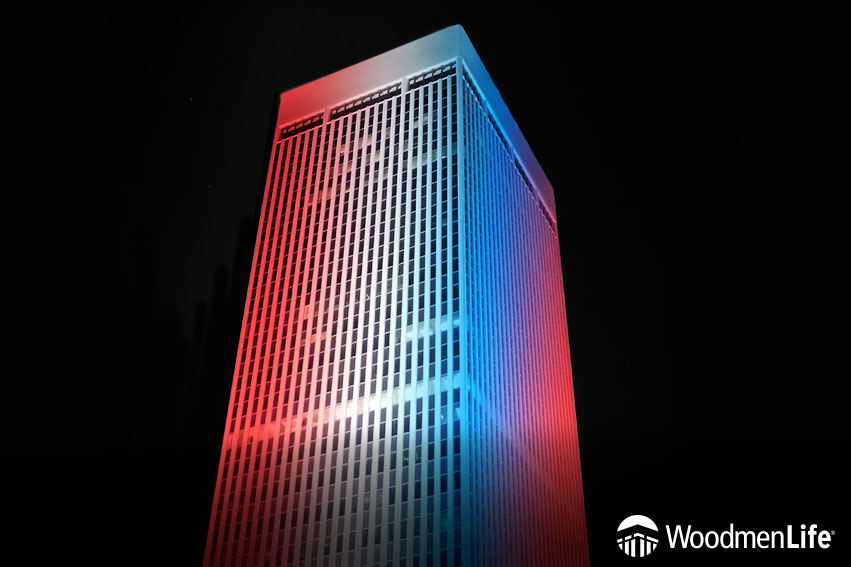 WoodmenLife Tower to Light for National POW/MIA Recognition Day
Omaha, Nebr. – Tonight the WoodmenLife Tower will light red, white and blue for National POW/MIA Recognition Day.
Though this day is most often associated with the Vietnam War, it recognizes all prisoners of war and those who are still missing in action. America began marking this day in 1979, after Congress passed a joint resolution and President Jimmy Carter signed it, at the urging of the families of more than 2,500 Vietnam War POW/MIAs. The day is known by the central phrase "You Are Not Forgotten," according to Military.com, but there's so much more to know than that. Please take a few moments to learn.
WoodmenLife will share this on social media with the hashtags #NeverForgotten, #POWMIA and #LightWoodmenLifeTower.
To see a schedule of upcoming tower lightings or to request one, visit the WoodmenLife Tower Lighting Partnership website.
About WoodmenLife
WoodmenLife was founded in 1890 as a not-for-profit. The organization gives back to its members across the country, who join together in a shared commitment to family, community and country. With a legacy of financial stability, WoodmenLife offers quality life insurance and retirement products. A person becomes a member when they purchase a WoodmenLife product. Members have access to many extras they can use now. To learn more about the organization, visit newsroom.WoodmenLife.org.