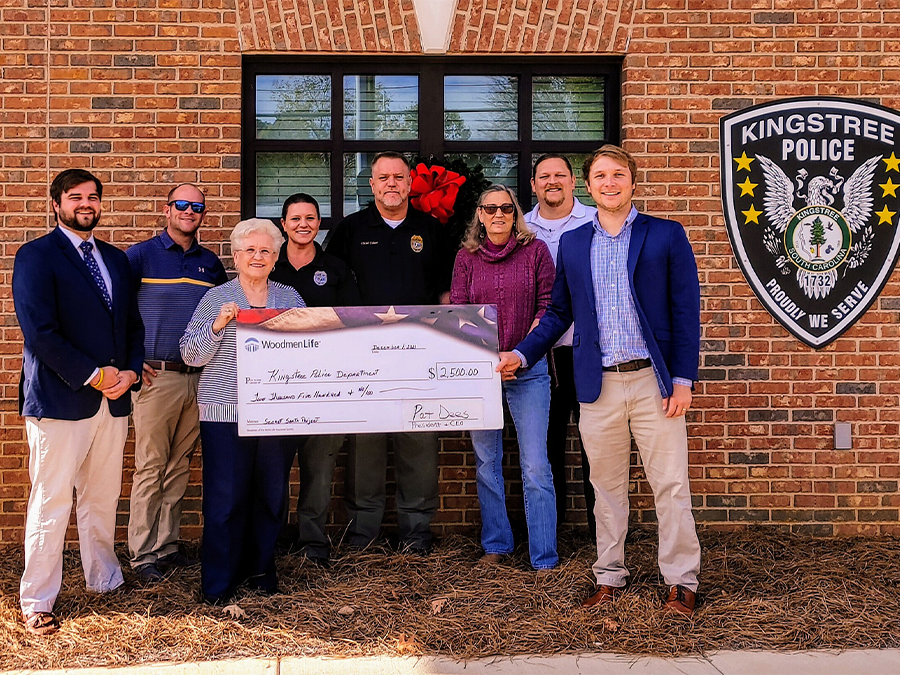 WoodmenLife Chapter 27 Honored with Project of the Year Award
Chapter Partners with Kingstree Police Department
WoodmenLife announced that South Carolina Chapter 27 in Kingstree is being honored with the WoodmenLife 2022 Outstanding Project of the Year award. Project nominations were taken on a regional level. Winners from each region were then submitted for national recognition. Chapter 27's project was chosen from 26 national nominees.
This project took two months to complete and directly impacted the community as a whole. The chapter partnered with the Kingstree Police Department for their Secret Santa community event as a title sponsor and contributing partner. They donated $2,500 to help improve community relations with the police department. This money was used in three ways: First, to go to supermarkets and purchase groceries for random individuals in the checkout lines; next, to purchase electronics/laptops, bicycles, and other gifts and distribute them to children in underserved neighborhoods; and finally, to perform traffic stops on safe drivers and award them $100 bills for their good habits. Eight WoodmenLife members volunteered to be "ride-alongs" during these events and aided in grocery shopping and gift distribution. In total, the donation impacted the lives of more than 500 people in the community.
"Chapter 27, with the Kingstree Police Department, set a standard with this project that should be shared around the country," said Recruiting Sales Manager Logan Ingram. "They built trust within their community and positively affected hundreds of individuals. This was ultimately their goal."
Chapter 27 exemplifies what WoodmenLife chapters do across the nation. Their commitment to community and service deserves to be recognized.