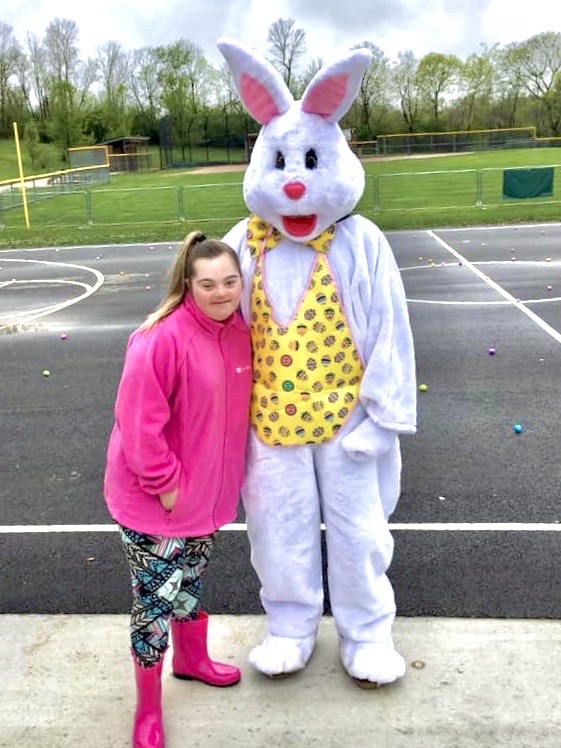 Event for Children of Different Abilities Earns Project of the Year Honor
WoodmenLife members who expanded a beloved event to welcome children of all abilities have earned the national organization's Project of the Year honor.
Chapter 918 in Alexandria, KY, has hosted an Easter egg hunt for many years, a welcome community event that could at times seem chaotic for those with disabilities. To be inclusive and support more families, members decided in 2019 to add an Eggstra-special Easter Egg Hunt in Alexandria Community Park.
This opened up opportunities for children with mobility problems, physical or mental delays, sensory disorders, and others to join in. The chapter also served drinks and popcorn, handed out goody bags and brought in a special guest — the Easter Bunny. Around 20 children attended the quieter hunt, and each could enjoy the activities at his or her own pace.
Key to planning this event were Kara and Marc Barone, whose daughter has Down syndrome and has experienced the sadness of being left out of such activities. Kara, who is the Chapter Secretary, and Marc, who is a WoodmenLife Financial Representative, have heard a lot of positive feedback. "The parents were all super appreciative," Kara said. "There were a few kids who had never sat on the Easter Bunny's lap because they were very scared, but they got the opportunity to do that in what felt like a safer environment for them."
WoodmenLife members around the country share a commitment to helping others, and this is just one snapshot of the impact they're making in hometowns from coast to coast.
"This chapter, like countless others across the country, knows its community well and can spot the needs others might miss," said President & CEO Patrick L. Dees. "WoodmenLife's mission includes being of service to others, and it's heartwarming to know the people who've put their faith in us will step up and take action to help others. They have my thanks and appreciation."
At top: Ariana Barone was one of the youths who enjoyed the Easter egg hunt. Her parents, members Kara and Marc Barone, played an integral part in organizing the event.