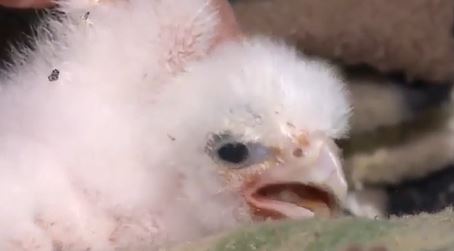 Chayton's Legacy Lives on in Miracle Hatchling
After the devastating loss of our female falcon, Chayton, back in April, we have some incredible news. One of her four eggs hatched on May 13, thanks to the incubation efforts of the Raptor Conservation Alliance.
Appropriately dubbed "Lucky," the eyas has been transported to a private falconer in Kansas. The falconer's nesting female has accepted the baby falcon and will raise it with her mate like it's their own.
Chayton died in April while incubating her eggs in a nest atop WoodmenLife Tower. It was later announced that she had tested positive for highly pathogenic avian influence (HPAI) — more commonly known as bird flu.
The Raptor Conservation Alliance took in the eggs, cleaned them and incubated them. It was unknown exactly how long the eggs would have been exposed to the elements after Chayton's death, and it seemed unlikely they would hatch at all, as the eyasses traditionally emerge in early May. Lucky's appearance came as a happy surprise.
We have very high hopes for Lucky's future, and we are thrilled that Chayton's legacy will live on through him.
For more about WoodmenLife's peregrines falcons, visit our Follow the Falcons blog.