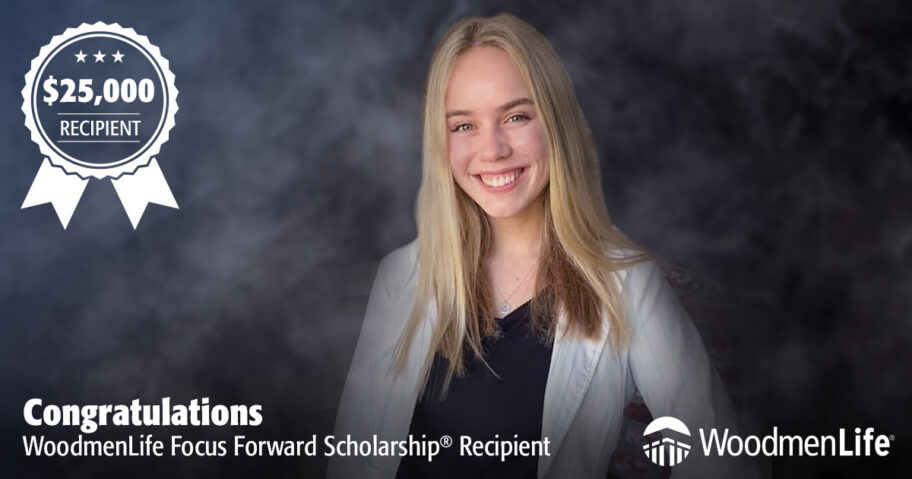 WoodmenLife Awards Students $307,000 in Scholarships
WoodmenLife today announced the recipients of its annual Focus Forward Scholarship. The total awards amounted to $307,000 awarded to 497 students. These students submitted applications highlighting their academic achievements, community involvement and an essay on patriotism.
This scholarship is one of many valuable extras WoodmenLife offers its members. A person becomes a member when they purchase a WoodmenLife life insurance or retirement product.
Since starting the scholarship program in 2017, WoodmenLife has awarded more than $2 million in scholarships to nearly 4,000 students who are furthering their education at trade schools, colleges or universities across the country.
The top prize of $25,000 went to Grace Freese of Carmichael, Cal. Freese plans to attend the University of California Santa Barbara.
Gracie Conway, a student at McCracken County High School in Paducah, KY, received the $20,000 scholarship. She hopes to study pre-veterinary medicine at Murray State University in the future.
Courtney Liles of Waxhaw, N.C., received the $10,000 award. Liles has plans to attend the University of North Carolina Charlotte, where she will major in history.
The program also awarded ten $1,000 scholarships and 484 $500 scholarships to assist deserving students nationwide in reaching their goals in higher education.
"In our fifth year of this program, we are proud to be able to help these students achieve their dreams and work toward successful futures," said Patrick L. Dees, WoodmenLife President & CEO. "We look forward to seeing great things from these individuals who showcase WoodmenLife's values each day."
About WoodmenLife
WoodmenLife was founded in 1890 as a not-for-profit. The organization gives back to its members across the country, who join together in a shared commitment to family, community and country. With a legacy of financial stability, WoodmenLife offers quality life insurance and retirement products. A person becomes a member when they purchase a WoodmenLife product. Members have access to many extras they can use now. To learn more about the organization, visit newsroom.WoodmenLife.org.