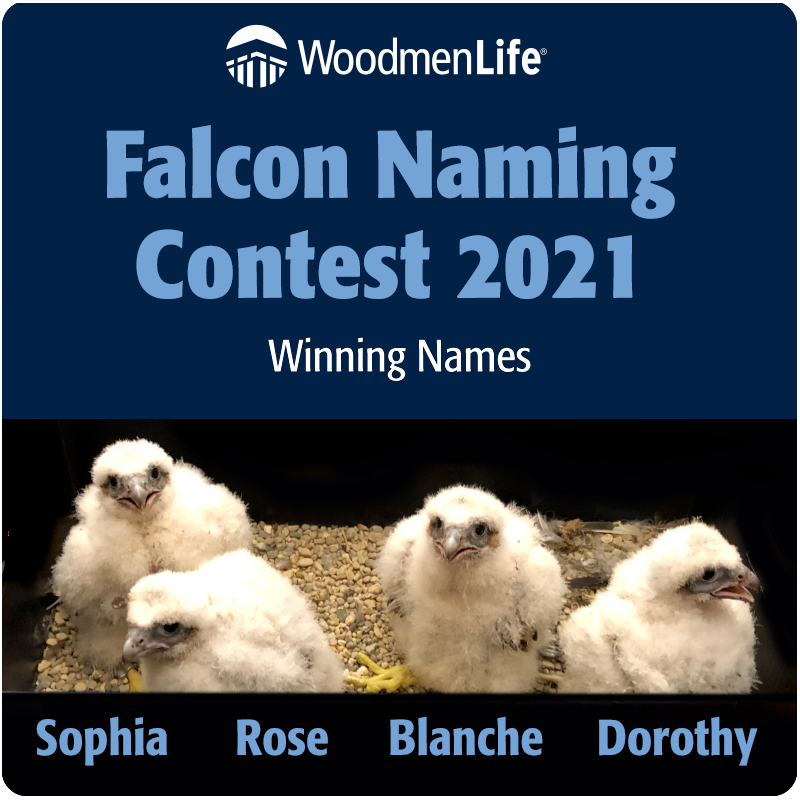 WoodmenLife Falcon Chick Names Are Golden
WoodmenLife's winning falcon names inspired by "The Golden Girls"
The votes have been tallied for WoodmenLife's 2021 Falcon Naming Contest, and the winning names have been determined. With hundreds of votes, the four female peregrine falcons will forever be known as Sophia, Rose, Blanche, and Dorothy.
The winning names, submitted by Billie Floyd of Oklahoma, were inspired by characters from the popular sitcom, "The Golden Girls," which was released in 1985.
"Because of the golden tint to their feathers, they are the Golden Girls!" Floyd said.
The four falcons hatched atop WoodmenLife Tower in early April and were banded on May 27. Experts from the Raptor Conservation Alliance checked the hatchlings' overall health and identified their genders. The full banding video is available on WoodmenLife's YouTube channel.
WoodmenLife hosted its annual Falcon Naming Contest on the organization's Facebook page immediately after the banding. Fans entered 90 groups of four names, and an internal committee selected five finalists. The public voted on the finalists, and the winner was determined by popular vote.
The annual tradition of banding and naming the falcons is a testament to WoodmenLife's commitment to conservation of the species. This is the 29th consecutive year peregrine falcons have hatched at WoodmenLife Tower. In total, 93 have been banded and named.
To learn more about the organization's falcon history, visit WoodmenLife.org/falcons.
About WoodmenLife
WoodmenLife was founded in 1890 as a not-for-profit. The organization gives back to its members across the country, who join together in a shared commitment to family, community and country. With a legacy of financial stability, WoodmenLife offers quality life insurance and retirement products. A person becomes a member when they purchase a WoodmenLife product. Members may have access to many extras they can use now. To learn more about the organization, visit newsroom.WoodmenLife.org.