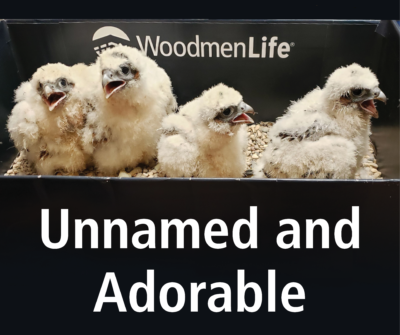 Our Falcons Will Fledge This Month — Not Without Names First
As our peregrine falcon hatchlings get closer to the day they leave the nest this month, we ensure they have names before they start their separate lives. We've narrowed down the list of names to the top five groups. Now we're seeking the public's help to finalize the four names of the hatchlings. Voting to determine the winning names of this years 2020 Falcon Naming Contest is open now through Friday, June 12, at noon Central Time. The winner will be announced Monday, June 15, and will receive a framed photo of this year's falcons and an invitation to the 2021 VIP falcon banding. The names of the five groups are:
Ruby, Jade, Emerald, Onyx
Rosa, Harriet, Malcolm, Martin
Aquila, Orion, Lyra, Phoenix
Maverick, Goose, Iceman, Viper
Leia, Han, Luke, Chewy
The naming of the falcons dates back to when the first peregrines were bred to help boost the population and get them off the endangered species list. Founder of the Raptor Resource Project, Bob Anderson, let landowners and power plant guardians name the falcons to increase the chance of participation in his program and create partnerships. WoodmenLife has been following suit in the naming of our falcons for decades.
Be sure to keep updated with the 2020 Falcon Naming Contest on the WoodmenLife Facebook Page. Also, cast your vote for your favorite group of names! You can vote once per day.
Interested in our falcons? You can learn more about their history with WoodmenLife on our falcon page.