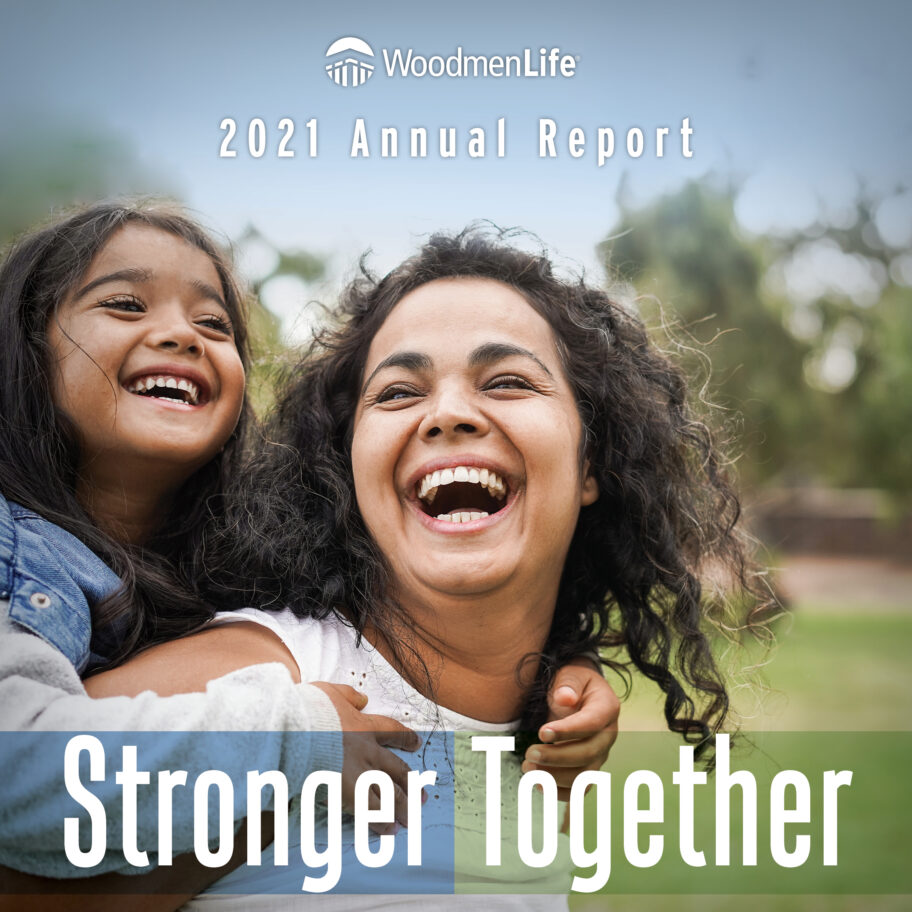 WoodmenLife Shows Record Growth
Organization releases its 2021 Annual Report – "Stronger Together"
In their recently published 2021 Annual Report, WoodmenLife shows year-over-year financial growth while continuing to support the families and communities it serves.
In addition to reporting on the continued financial strength of the organization, this year's report celebrates the efforts of the organization and its members in coming together to help make a difference in hometowns across America. Highlights include the organization's Giving Together program which in its second year implemented 343 community cleanup and beautification projects across the country; the launch of the Celebrating Red, White & Blue® program, which provides 30' x 60' flags to promote patriotism at local athletic events and activities; and the organization's recommitment to its National Community Focus of fighting hunger. Since 2015, WoodmenLife has donated more than 552 tons of food and $3.1 million to food banks and pantries across the U.S. WoodmenLife members have spent countless hours at events like serving meals at community kitchens, organizing community food drives and stuffing backpacks for schools.
"The need to address this widespread problem is even greater now than it was when we launched the National Community Focus of fighting hunger in 2015," said Patrick L. Dees, WoodmenLife's President & CEO. "We are continually humbled to see how dedicated all the members of the WoodmenLife family are to this effort."
Financial Highlights
In 2021, the organization's surplus ratio grew to an impressive 17.71%. Assets continued to grow to $11.5 billion while liabilities were steady at $9.74 billion.
Investment income exceeded $374 million, and life insurance in force was at a 10-year record high of $39.2 billion. The organization provided $779 million in benefit payments to members and their beneficiaries and returned $27.4 million in member refunds.
"Our conservative investment strategy has helped us increase our financial strength in these challenging times." said Dees. "It has also allowed us to focus our efforts on upgrading our technology to provide the best member experience possible regarding access to information and seamless operational support."
A.M. Best, an independent rating company, affirmed this by once again rating WoodmenLife's financial strength and operating performance with an A+ (Superior) for the 46th consecutive year.
Woodmen of the World Life Insurance Society Home Office: Omaha, NE