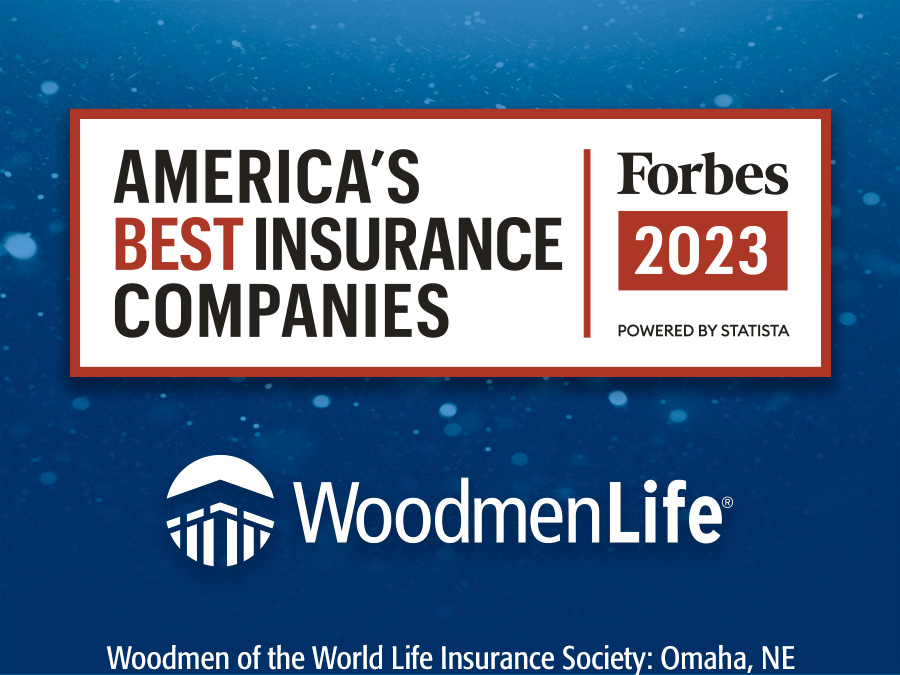 WoodmenLife Recognized on the Forbes America's Best Insurance Companies 2023 List
WoodmenLife has been recognized on the Forbes list of America's Best Insurance Companies 2023. This prestigious honor is presented by Forbes and Statista Inc., the world-leading statistics portal and industry ranking provider. The awards list was announced on Oct. 4, 2022 and can be viewed on the Forbes website.
America's Best Insurance Companies 2023 were identified in an independent survey based on a sample of over 15,000 U.S. citizens with at least one insurance policy. The survey considered customers' overall recommendation, their general satisfaction, and six sub-dimensions: financial advice, customer service, price/performance ratio, transparency, digital services, and damage/benefit ratio. A loyalty score was calculated based on a series of questions about the customers' likeliness to keep their insurance policy under different circumstances and the total length of time that consumers have held policies with the same insurer.
Out of the 145 awards assigned, only 77 unique insurance companies won across five categories: auto, homeowners, renters, term life, and permanent Life. In their second year making the Forbes list, WoodmenLife ranked No. 1 overall in the permanent life category.
"We are honored to again be recognized by Forbes as one of America's Best Insurance Companies and are proud to be able to stand side by side with all the other great companies," said Patrick L. Dees, WoodmenLife President & CEO. "This wouldn't be possible without our outstanding members who put their trust in us to help protect their financial security."
About WoodmenLife
WoodmenLife was founded in 1890 as a not-for-profit. The organization gives back to its members across the country, who join together in a shared commitment to family, community and country. With a legacy of financial stability, WoodmenLife offers quality life insurance and retirement products. A person becomes a member when they purchase a WoodmenLife product. Members have access to many extras they can use now. To learn more about the organization, visit newsroom.WoodmenLife.org.